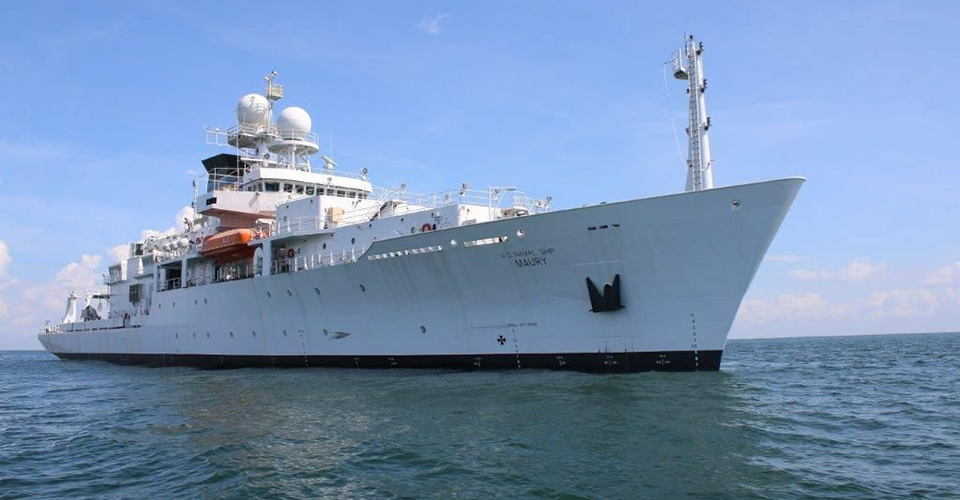 The OSI operated T-AGS vessel USNS MAURY participated in a security exercise with the UK Counter-Terrorism Special Firearms Officer (CTSFO) Force, during a recent port call in the UK.
The USNS MAURY served as a boarding platform providing the CTSFO a venue in which to become familiar with ships, while training for their counter-terrorism role. The CTSFO Team practiced boarding the vessel, clearing spaces, searching for adversaries and effecting hostage rescue.
The vessel's crew participated in the exercise by providing instruction to the CTSFO Team on how to read name plates and placards in order to determine their whereabouts and direction of movement while onboard. In addition, several crewmembers acted as adversary forces and, using their knowledge of the ship, provided a challenge to the CTSFO Team in clearing spaces, locating adversaries and rescuing hostages.
The NCIS Special Agent liaison between the ship and the CTSFO Team stated, "This was a great opportunity between our two nations to continue good relations with each other and work together in order to prepare to combat a threat aboard ship. Being able to observe the CTSFO's tactics, provide them with input, and to have members of the ship's crew aid and teach them the complexity of moving around in tight, congested quarters aboard ship were beneficial to all those involved."
This exercise provided the CTSFO with realistic maritime threat training while providing the crew with a tactics demonstration that will assist them with onboard security going forward. The ship's Master stated that he looks forward to working with the CTSFO again in the future.